Video credits: SpringKitchen
Korean > Chinese subs credits: Youku
The subbing & timing team:
@InLo90 @junhoempress
@joycekzy @myboytaec
Kindly credit if you're gonna embed the video etc,
& don't you dare claim the translations as yours.
DO NOT REUPLOAD OR EDIT.
// If you wanna use our subs to translate it into your own language
- just drop me a mention & credit my team.
Dailymotion
Part 1
Part 2
Videoweed
Part 1
Part 2
Powered by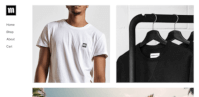 Create your own unique website with customizable templates.